We do e-commerce.
We provide development and consulting services to help you bring your business online.
E-commerce
We design robust, safe, reliable open source e-commerce application software.
E-commerce is without a doubt the business revolution of the 21st century.
Together with bigger vertical players and marketplaces, a large number of fierce and competitive merchants, each specialised in their own niche market, have taken to the pitch to boost their business reaching new potential clients all over the world.
We stand with those entrepreneurs and shop owners. What we can do for them is using all the knowledge and know-how acquired over 20 years of experience with open source technology and implement reliable and fast e-commerce systems fit to each client's individual needs.
We can do this for you as well: find out how.
Hosting
Managed, fast and reliable hosting for your e-commerce.
Service
Because it's not just about hiring resources in a hardware infrastructure, it's a service inclusive of a technological platform and know-how necessary to make it operate at best, and of the ongoing technical support needed to ensure safety, optimisation and performance over time.

Fast
Because MageSpeed hosting plans have a page loading time of less than 0.3 seconds: your clients will be browsing on a faster website and you will increase conversions as a result of the enhanced surfing experience; the search engines will reward your website based on the new Page Speed indexes designed by Google and included in the new organic search algorithm
Reliable
Because the technical support and high quality of the hardware platform and other software layers ensure a 99.5% uptime for your e-commerce.
Web CMS
Websites and portals with open source CMS for both smaller and larger projects.
We developed our first – completely custom – content management system in late 1999.
It was called "Porty", it was based on open source technologies, and it was the engine under the hood of the web portal  Idealia.net – one the very first web communities in Italy.
Since then, many things have changed in the way of making the web.
As of today, from the largest and most complex portals to the smaller blogs and websites, to social networks and other publishing platforms, they all make massive use of the so-called user generated content. The website manager, the programmer and the web designer are no longer the same person: modern CMS technologies made it possible for pages, hierarchies and contents of a website to be completely free from its graphic layout.
These various technologies, suitable for large and small projects, come with many names. WordPress, Joomla, Drupal: Each of these software has its peculiarities, guidelines, strenghts and weaknesses. We know and master them all, and we would be able to suggest the one that best suits your project. And if your project is still a different thing, yet don't worry: by integrating different CMS and custom coding, we can still deliver you the solution you need.
Mobile
Responsive, mobile-ready webites. Apps for iOS and Android.
The so-called "mobile revolution" has changed the way million of users experience and interact with contents published on the web.
Responsive web design has dictated new guidelines to design and implement websites which are no longer device-dependent but rather fully accessible in a satisfactory manner from any device: desktop computer, laptop, tablet and smartphone.
We design and implement websites for our clients following these guidelines and using the most advanced and best-known technologies and frameworks available.
Native applications for mobile operating systems (iOS, Android, Windows Phone) are quite different. A powerful customer retention tool through content exclusivization. We can design and make for you the App you need, help you get it to the marketplace, maintain it and let it grow over time.
Consulting and Training
We help professionals and companies solve their problems and widen their expertise.
Being able to rely on our strong vertical expertise in the web and e-commerce sectors and cross-cutting knowledge of other areas of computer science, web marketing and advertising, at MageSpecialist we want to deliver the experience acquired over the years through dozens of projects to our clients, old and new.
Your startup is stuck on a brain-racking problem? We can help you find a strategy to deal with the critical issue, overcome it and watch your project – finally completed – get off the ground at last.
We are guests and speakers at the most important e-commerce and new technologies technical and business events: E-Commerce Academy, Meet Magento Italy, MageDay, E-Commerce Forum, Magento Live. Don't miss an opportunity to visit us during these events: we can discuss your project – or just have a coffee together!
You need to know more about the tools you chose for your project? We organize training sessions, both face-to-face and remotely, one-to-one or in-class, on a variety of topics.
Support
Our clients sleep tight! We'll never leave them alone.
Perhaps, the most underappreciated step in the management of a project is everything that goes on after the go-live.
Clients might take for granted a series of guarantees of operation, or underestimate small problems that overtime will grow into big ones. An agency may think its work is done. We don't! The management of a project does not end with its publishing or when the invoice is paid!
That's why our technical team is always ready to take action under any circumstance – even when clients don't know we are! 24/7/365 monitoring on all our systems, 24h assistance for blocking problems is just part of the support we deliver on a daily basis to dozens of clients on dozens of different projects. We also provide proposal-making consulting, implementation of new functions, bugfixing, software updates, and much more.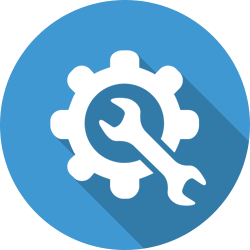 Tell us about your project.